Here at Animals Being Cute, we love to recognize people who help animals in their towns. Well, we have found a New York couple that just might win the prize for the most dedicated couple ever. Just wait until you see the giant bed they had specially made so it could fit each of their eight rescue dogs at once.
CLIFTON PARK, NEW YORK
A couple in Clifton Park, New York named Chris and Marisea Hughes adore their eight rescued dogs. They do everything in their power to make sure that these previously homeless dogs have the best life possible.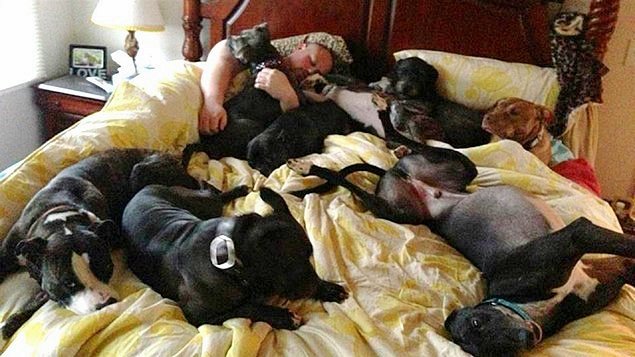 Like most of us, the Hughes love to have their dogs sleep in bed with them. Almost as much as the dogs like sleeping in there.
However, as you can see, once all eight of the dogs hop on — there's barely any room left for mom and dad.
GIANT BED
So, the couple hired local craftsman Mike Ford to help them find a solution. And his solution is going to blow your mind.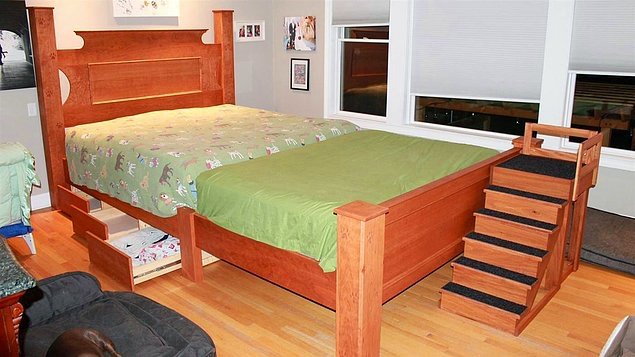 It took around six months, but Ford created a giant bed, unlike anything we have ever seen. Now, not only do the Hughes fit in their bed but so do Mable, Gremlin, Meatball, Tejas, Money, The Stig, Sam, and Quinn.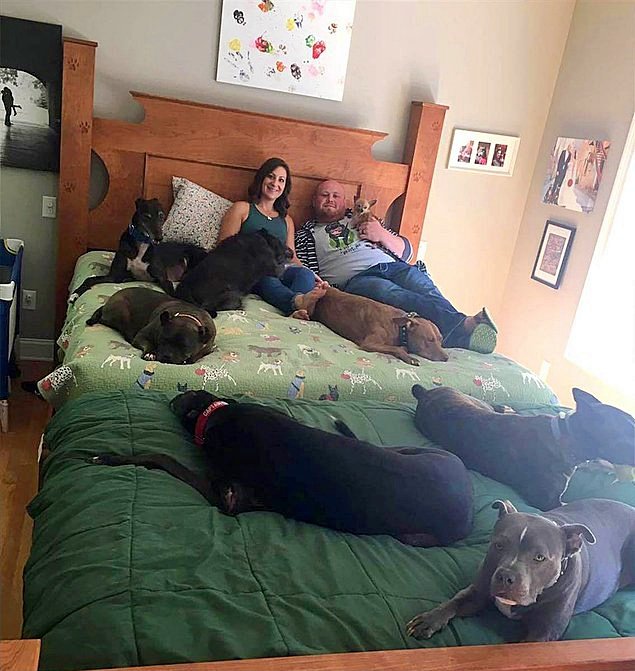 Thanks to Ford's hard work and brilliant design — everyone sleeps comfortably.
"They love it," Marisea Hughes said. "They just love to be near us, so however we can make that happen, they're happy."
WOW
The giant bed has it all — plenty of room, a staircase, drawers, and even paw prints carved into the headboard.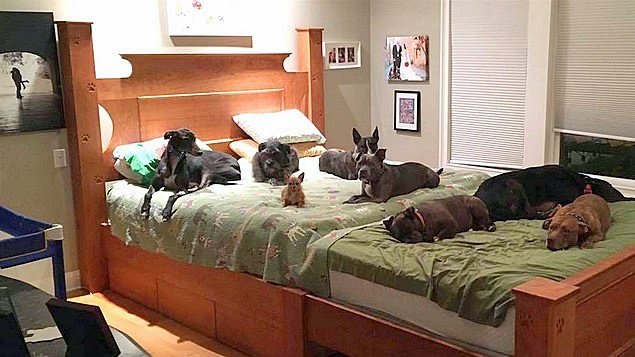 Now, this couple doesn't have giant hearts just when it comes to their own dogs. Instead, they spread the love all around their community with their non-profit organization called the Mr. Mo Project.
Named after the couple's late dog Moses, the Mr. Mo Project helps older dogs find forever homes.
Check them out in the video below:
Featured Image Screenshot from Good Morning America via YouTube Video